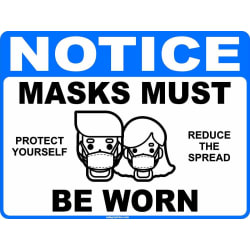 Giveaway: Social Distancing Business Decals
(Shipped)
For businesses to inform customers of their social distancing rules. 5 pack of 3x5 decals.
Prize: Notice Masks Must Be Worn Social Distancing Decal Multi-Pack (5 per pack) English or Spanish (3x5 …
Available on salagraphics.com
Estimated Value: $8.00
Notice Masks Must Be Worn Decals-5 per pack. English or Spanish. Post this decal at your business to help inform customers they must wear a mask to limit the spread of coronavirus.  
Product Details  All of our products are made in the U.S.A.   
Industrial Grade Materials: Permanent Self Adhesive Vinyl Decal with Digitally Printed UV Graphics made to withstand the harshest elements.
Indoor or Outdoor Use: Made to last inside & outside.
UV Coated for long life outside
Giveaway Status:
Winner Selected

10/02/2020

Sala Graphics, Inc. will receive up to 367 karma for delivering the prize!
These were the winner's odds
Yet more giveaways for you (new and somewhat related)