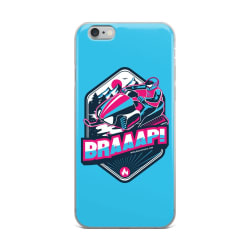 More details:
Winner did not receive prize
Giveaway: Snowmobile iPhone Case Giveaway
(Delivered)
Snowmobile fans!
Win a free iPhone case! This is a brand new design and perfect to show off your love of BRAAAP!
Prize: Blue Snowmobile BRAAAP! iPhone Case (iPhone 6 Plus/6s Plus)
Available on brapsports.com
Estimated Value: $37.00
Our premium cases protect your phone from scratches, dust, oil, and dirt. Featuring a solid back and flexible sides that make it easy to take on and off, with precisely aligned port openings. 
8 Foot Drop Protection UV Coated to stay clear and polished Wireless charging compatible BPA free Hybrid Thermoplastic Polyurethane (TPU) and Polycarbonate (PC) material Solid poly-carbonate back Flexible, see-through polyurethane sides .5 mm raised bezel
Don't forget:
Free Shipping on U.S. Orders 30-Day Unconditional Guarantee
This is a BRAPSports.com Exclusive Item.
Sponsored by: BRAPSports.com
Sponsor rating: 50/100
Giveaway Status:
Winner Selected

05/08/2019

BRAPSports.com has received up to 49 karma for delivering the prize!
These were the winner's odds
Yet more giveaways for you (new and somewhat related)