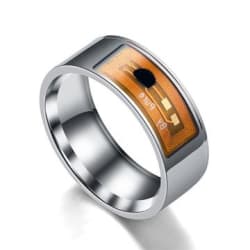 More details:
Winner did not receive prize
Giveaway: Smart Ring
(Delivered)
control numerous apps with this smart ring
Prize: Smart Ring
Estimated Value: $15.99
Water Resistant and no charging required. Lock and unlock your smart phone or tablet quickly, hide the app when you leave your smart phone alone. Control applications, you can write a fixed process list ahead of the time, and the ring will start the applications each time by simply touch. Share and transfer information, support all Android and Windows NFC mobiles. Multi-functional NFC smart ring, the main function is to store and exchange personal information, as well as mobile content and personal privacy encryption unlock. Functions: set up smart lock, card recharge, smart phone unlock, phone important file lock, transfer files.
Consolation Prize: 25 % off
Anyone who enters but doesn't win the Smart Ring will receive a code to unlock the discount.
Giveaway Status:
Winner Selected

12/02/2018

smart bluetooth world has received up to 1217 karma for delivering the prize!
These were the winner's odds
Yet more giveaways for you (new and somewhat related)