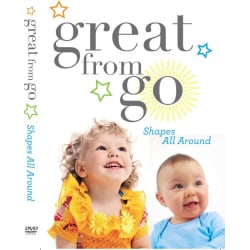 Giveaway: Shapes All Around DVD by Great from Go!
(Delivered)
Great from Go: Shapes All Around is the perfect tool to help children learn to express verbally what they see around them. The Great from Go concept was inspired by scientific research into language and learning and is intended for children 6 months to 3 years old.
The DVD includes several special features, including multiple languages (English, Spanish, Chinese, Polish) and different musical scores. Many parents have reported amazing results with this unique early education video.
If DVD's aren't your thing, you can also get the video using amazon instant video, here
Prize: Shapes All Around DVD by Great from Go! prize
Available on amazon.com
Estimated Value: $11.00
Giveaway Status:
Winner Selected

07/09/2016

Great from Go! has received up to 168 karma for delivering the prize!
These were the winner's odds
Yet more giveaways for you (new and somewhat related)