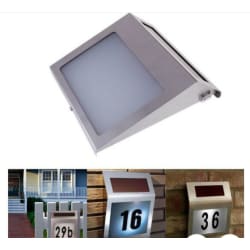 More details:
Giveaway: Save a life sweepstakes
(Claimed)
Safety (and convenience) first! Putting your house numbers up in lights is a great way to ensure your address is visible to delivery trucks, pizza delivery drivers, late-night guests and most importantly, emergency personal. It's also quite stylish.
That said, most other illuminated house numbers need to be physically wired to the house. Which means you probably won't get to installing it right away and that means you will never install it.
Well, problem solved, because now we are giving away a set of solar powered illuminated house numbers and discount codes to our catalog if you don't win. Being solar powered, these house numbers are easier on the electric bill and no wiring is required, meaning you will actually get around to installing it!
Prize: Illuminated House Number
Estimated Value: $55.00
The Emerge and See Light Illuminated House Number is a state of the art, solar powered, lighted address sign that helps make it easier and faster to find your home at night and because it's a solar powered light it works even in a storm, a natural disaster and a power outage.
Consolation Prize: $5 off because you're an awesome lifesaver
Anyone who enters but doesn't win the Illuminated House Number will receive a code to unlock the discount.
Giveaway Status:
Winner Selected

06/12/2018

emergeandseelight will receive up to 1179 karma for delivering the prize!
These were the winner's odds
Yet more giveaways for you (new and somewhat related)