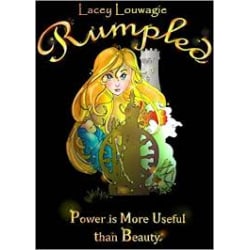 Giveaway: Rumpled: A Retelling of Rumpelstiltskin by Lacey Louwagie (Paperback)
(Delivered)
Gold for a poor girl,
Beauty for a twisted man,
A child for a powerful sorcerer . . .
Rumpelstiltskin can change anything he touches into gold, but he cannot change his own twisted body. The sorcerer Laurus can make Rumpelstiltskin tall, strong, and handsome—but he will only work his magic in exchange for a child in its first year of life.
When Emily's deluded father claims she can spin straw into gold, the King demands proof. Caught between a mad father and a mad king, Emily's life hangs in the balance. Rumpelstiltskin will help keep up her ruse for three nights—if she promises him her firstborn child.
When the King decides to marry Emily, the pretense must continue for much longer. And what Emily offers Rumpelstiltskin in return for his continued help has the power to change everything.
This retelling of "Rumpelstiltskin" is best suited for ages 14 and up.
Prize: Rumpled: A Retelling of Rumpelstiltskin by Lacey Louwagie (Paperback) prize
Available on laceylouwagie.com
Estimated Value: $9.99
These were the winner's odds
Yet more giveaways for you (new and somewhat related)