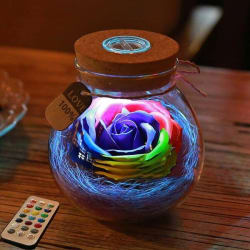 More details:
Giveaway: Roses are red, no wait purple, maybe blue?
(Delivered)
One of the few centerpieces that will work equally well for a romantic date, upscale dinner party or long session of Dungeons and Dragons. This rose light bottle will add magic to any over the table conversation, such as:
"I'm so glad we met. Tonight has been amazing."
"Classical music Is more intellectually stimulating"
"I cast animal friendship on the rat"
"Oh my dog? It's a rescue..."
"I want to be with you forever, will you marry me?"
"Roll for crit"
So forget those two-color rose poems (so last decade) and enter to win this, far more versatile, multi-color rose light bottle instead!
Prize: Rose Light Bottle
Estimated Value: $43.90
Create an enchanting ambiance and let it flow through you with this Rose Light Bottle. This gorgeous rose light bottle casts a magical spell over a romantic table for two or an intricate dinner party. Its customized light control gives you the power to produce that magical charm every time. The perfect gift for any occasion!
An eye-catching accent for table top or bedside
Includes a remote control for 13 customized light colors, dimming and timed color changing features
Unlike real flowers these lovely artificial roses will last and last
Packaged in a stylish gift box ready for gift giving
Available in pink, blue or purple
Giveaway Status:
Winner Selected

05/23/2017

Wanderlink has received up to 1087 karma for delivering the prize!
These were the winner's odds
Yet more giveaways for you (new and somewhat related)