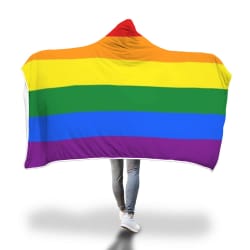 Giveaway: Rainbows are a LGBTQ+'s best friend!
(Shipped)
Take a chance at winning our AWESOME Rainbow hooded blanket!

Prize: Rainbow Hooded Blanket!
Estimated Value: $51.00
So comfy. Much rainbows. Embrace your inner rainbow Jedi?
Consolation Prize: 15% off your next order!
Anyone who enters but doesn't win the Rainbow Hooded Blanket! will receive a code to unlock the discount.
Giveaway Status:
Winner Selected

08/14/2018

PrideAllYear.com will receive up to 2303 karma for delivering the prize!
These were the winner's odds
Yet more giveaways for you (new and somewhat related)
---
All Comments (1)
This is gorgeous!! Love rainbows.