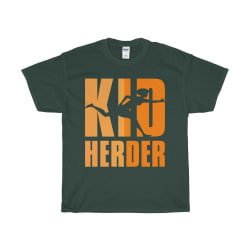 Giveaway: PureDesignTees T-Shirt Giveaway
(Delivered)
Our Kid Herder Tee is not only stunning and comfortable, but durable and ready for the daily chase after the kids. Our exclusive designs are only available at PureDesignTees.com. You will search in vain to find them at Amazon or any other online or brick-and-mortar outlet.
Prize: Kid Herder Unisex Heavy Cotton Tee (Forest Green / S)
Available on puredesigntees.com
Estimated Value: $18.00
I know sometimes you feel like you are overwhelmed as a mother. You feel like an overworked sheepdog. Admit it. The kids are going in every direction at once. Have a little fun with your situation with this fun take on motherhood. This heavy cotton tee has the classic cotton look and feel. Casual elegance will make it an instant favorite in everyone's wardrobe.
S M L XL 2XL 3XL 4XL 5XL
Width, in 19 21 23 25 27 29 31 33
Length, in 29 30 31 32 33 34 35 36
Sleeve length, in 8 8 9 9 10 10 11 11
.: Classic fit .: 100% Cotton (fibre content may vary for different colors) .: Light fabric (5.3 oz/yd² (180 g/m²)) .: Tear away label .: Runs true to size
Consolation Prize: 15% off Kid Herder Tee
Anyone who enters but doesn't win the Kid Herder Unisex Heavy Cotton Tee (Forest Green / S) will receive a code to unlock the discount.
Giveaway Status:
Winner Selected

07/31/2018

PureDesignTees has received up to 142 karma for delivering the prize!
These were the winner's odds
Yet more giveaways for you (new and somewhat related)
---
All Comments (2)
Unfortunately you did not win the giveaway, but you will receive a discount code for 15% off the Kid Herder Tee.

If I get this, it's going straight to one of my sisters -- but do I give it to the mother of three, or the fifth-grade teacher?