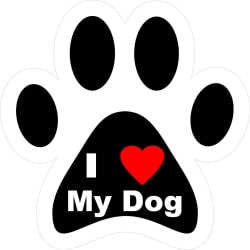 Giveaway: Proud Dog Lover Decal
(Delivered)

Prize: I Love My Dog Decal (6x6 / Vinyl Decal)
Estimated Value: $4.25
Great sticker for Dog Owners.     Industrial Grade Decal UV Coated
Consolation Prize: 10% Off All Orders
Anyone who enters but doesn't win the I Love My Dog Decal (6x6 / Vinyl Decal) will receive a code to unlock the discount.
Giveaway Status:
Winner Selected

07/30/2017

Sala Graphics, Inc. has received up to 87 karma for delivering the prize!
These were the winner's odds
Yet more giveaways for you (new and somewhat related)
---
All Comments (1)
A.L. - 07/29/2017 9:26 p.m. (direct link)

Got one for cat owners?