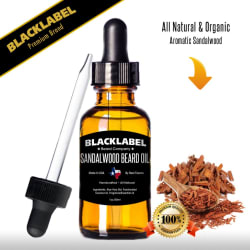 More details:
Winner did not receive prize
Giveaway: Premium Beard Oil Giveaway
(Delivered)
Enter for your chance to win a free 1 ounce bottle of premium beard oil! All products are sourced, and made in the USA!

Prize: Sandalwood Best Beard Oil | Premium All Natural Beard Oil 1oz
Available on greatwestbeard.com
Estimated Value: $18.99
Beard Oil Scent- smells like a warm slightly powdery, and sometimes creamy wood. rich, sweet, woody, exotic and lingering aroma. It is luxurious, and balsamic with a soft deep aroma and with a hint of leather. We consider ourselves (as do others) Beard/Moustache aficionados here at Blacklabel Beard Company! We have tried and tested many a wax , oil, balm etc. in our time and think ours is…well, the Best!
BLACKLABEL BEARD COMPANY BEARD OIL IS NATURAL  AND HANDMADE WITH RAW INGREDIENTS IN THE GREAT STATE OF TEXAS. WE FORMULATE OUR PRODUCTS FROM OUR OWN RECIPES WITH QUALITY INGREDIENTS FROM TRUSTED SOURCES.
This beard oil has been researched for months and made with the finest purest and natural blends of oils. It is the best beard oil on the market. The Blacklabel Beard Company oil is designed to be lightweight and will help keep your beard soft, conditioned and shiny. Because of it being light-weight, it won't weigh down your beard or feel greasy. The only thing left behind is the mesmerizing fragrance.
Benefits:
Softens BeardStops Beard ItchStops BeardruffIntoxicating subtle scentPromotes beard growth
Made from 100% Natural IngredientsExclusive formulations with our pure Ingredients: Jojoba oil, Grape seed oil, Argan oil, Sweet almond oil, Coconut oil, Essential oils.
Do small skin test before using fully, might contain allergens to certain individuals.
Ships to your door in 2-7 business days. Same day shipping if ordered before noon CST.
Giveaway Status:
Winner Selected

05/20/2019

Great West Beard Company has received up to 2276 karma for delivering the prize!
These were the winner's odds
Yet more giveaways for you (new and somewhat related)