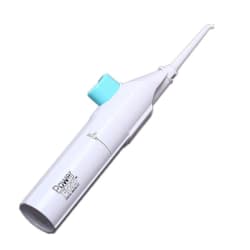 More details:
Winner did not receive prize
Giveaway: Power Floss
(Delivered)
We are giving away a Power Floss Water Jet! YES! FREE! NO STRING ATTACHED! SEE IF YOU CAN WIN! AND STAY IN TOUCH FOR OTHER GREAT WEEKLY GIVEAWAYS!
Prize: Power Floss Water Jet
Estimated Value: $12.99
The Power Floss Water Jet keeps your teeth sparkling clean. The Quick & Easy Cordless design powers away food particles and plaque-causing debris. You can even fill it with mouthwash to freshen your breath as you floss. It's perfect for kids and adults, use it every day to keep braces clean and maintain crowns or implants! Flossing is one of the most important elements in taking care of your teeth, but so many people hate the painful task. This powerful oral hygiene tool uses air infusion technology. Just fill with water, point, and press to power. The air infusion technology gently blasts away unwanted particles and flushes out crevices for healthy teeth that are sure to please your dentist. The ergonomic design and low profile tip helps reach the back teeth and is perfect for keeping braces, bridgework or other dental work clean. Never again worry about getting floss stuck between teeth or dealing with the pain of flossing.  Don't be afraid of your next trip to the dentist. Practicing good oral hygiene at home has never been easier, thanks to the Power Floss Water Jet. Get ready to show off your clean and dazzling smile!
Consolation Prize: 20% OFF ENTIRE STORE
Anyone who enters but doesn't win the Power Floss Water Jet will receive a code to unlock the discount.
Giveaway Status:
Winner Selected

03/19/2018

Future Depot has received up to 607 karma for delivering the prize!
These were the winner's odds
Yet more giveaways for you (new and somewhat related)