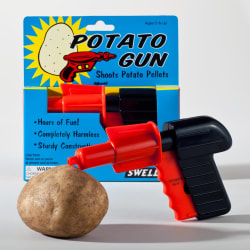 Giveaway: Potato Gun
(Delivered)
A classic potato gun. Great for irritating your coworkers as part of your ongoing effort to get permanently expelled from the office. Potato sold separately.

Prize: Potato Gun prize
Available on amazon.com
Estimated Value: $5.00
Giveaway Status:
Winner Selected

08/11/2016

Only Ambiance Youtube has received up to 238 karma for delivering the prize!
These were the winner's odds
Yet more giveaways for you (new and somewhat related)