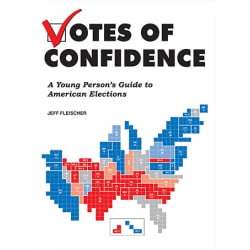 More details:
Giveaway: Post-Traumatic Election Disorder
(Delivered)
Do you suffer from Post-Traumatic Election Disorder (PTED)? Symptoms include excessive sharing of political memes on social media (often without fact-checking them first), constant laments about what "might have been" had things gone differently in November 2016, feelings of dread when you check the news, and obsessive thoughts about whether that nice person who helped you get your car out of the ditch voted for Trump.
It's been over six months since that fateful night, but if you still find yourself wondering, "HOW COULD THIS HAVE HAPPENED?", this prize pack might be for you. It includes three books related to American politics, all written in an easily digestible format that still-reeling minds can take in (read: these are books aimed at adolescents.)
The most hefty book in this prize pack at a whopping 221 pages, "Votes of Confidence: A young Person's Guide to American Elections" by Jeff Fleischer explains the complicated quagmire that is the electoral college, includes a primer on American government (in case you zoned out during civics class), overviews the role of the "party" system in the U.S., and more. The last chapter includes information on "ways to get involved" with the electoral process in the U.S. (there's no email server hacking tips, though) just in case you are in the camp that is crying, "NEVER AGAIN!!!"
Follow that up with the more succinct "Presidential Elections and Other Cool Facts (Fourth Edition)" by Syl Sobel. This book includes overviews of past presidents and presidential hopefuls for a glimpse at the "Good ol' days" as well as an ominous chapter called, "What If Something Happens to the President?" (Come on, you know you've wondered it, too.)
Finally, wrap up your bibliotherapy with "Who Is Hillary Clinton?" by Heather Alexander. I'm sure this book will go beyond telling us that she's not our 45th president.
Prize: Post-Traumatic Election Disorder
Estimated Value: $26.97
This prize pack includes
"Votes of Confidence: A Young Person's Guide to American Elections" by Jeff Fleischer, published by Zest Books (221 pgs, ISBN 978-1936976904)
"Presidential Elections and Other Cool Facts" by Syl Sobel, J.D., published by Barron's (48 pgs, ISBN 978-1438006918)
"Who Is Hillary Clinton?" by Heather Alexander, published by Grosset & Dunlap (106 pgs, ISBN 978-0448490151)
These were the winner's odds
Yet more giveaways for you (new and somewhat related)