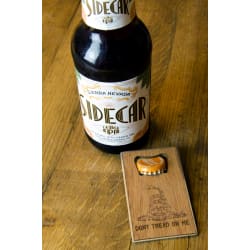 Giveaway: Poppin Tops
(Delivered)
Here is the perfect card bottle opener that fits in your wallet. Real Premium Mahogany wraps both sides of the stainless steel frame of the opener. Open your beers in style with this wooden bottle opener!
Prize: Wallet Size Bottle Opener
Available on southerndrinkingclub.com
Estimated Value: $15.00
It's my favorite credit card to pull out of my wallet and will be yours too! This is a beautiful bottle opener that is as good at opening beers as it is at starting conversations about it. Have me customize it with a name to make it a great gift for your beer drinker!
Made from Brushed Stainless Steel, we cover it with REAL Mahogany of the highest quality. Then we laser-engrave it with your choice of text and font.
They measure roughly 3 1/4" x 2" x 1/16". The perfect size to slide into the credit card pockets in a wallet.
Consolation Prize: We can't all be winners but we all can use this discount for 20% off!
Anyone who enters but doesn't win the Wallet Size Bottle Opener will receive a code to unlock the discount.
Giveaway Status:
Winner Selected

01/21/2020

Southern Drinking Club has received up to 454 karma for delivering the prize!
These were the winner's odds
Yet more giveaways for you (new and somewhat related)