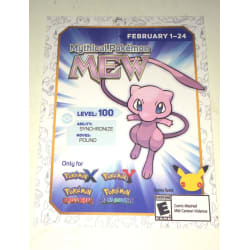 Giveaway: Pokemon 20th Anniversary Mew Card
(Delivered)
Did you miss your chance to get the elusive and exclusive Mew? Did you have a chance to get the one(s) you needed, but not one to keep in mint condition for a collection? Did your friend miss out on their chance? Well, here's a second chance to get the mythical Pokemon, Mew!
The winner will receive a mint download card for the lv 100 Mew via normal USPS mail [snail mail], inside it will be some cardboard pieces so the post man doesn't accidentally crease it.
Photos and store page are not mine
Prize: Pokemon 20th Anniversary Mew Card prize
Available on amazon.com
Estimated Value: $4.00
Giveaway Status:
Winner Selected

05/17/2016

Jaidonkaia has received up to 483 karma for delivering the prize!
These were the winner's odds
Yet more giveaways for you (new and somewhat related)