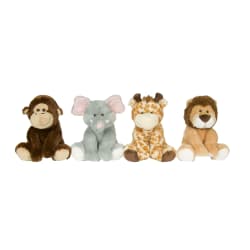 Giveaway: Plush Creatures Grab Bag
(Delivered)
This fine collection of new plush creatures is coming from my personal overstock. It includes at least one beanie baby cat, some little bears, maybe a zebra... and more, more moar! Note that the picture is representative of similar Plush animals, but this is a GRAB BAG so the actual plushies will be different. Enjoy!

Prize: Plush Creatures Grab Bag prize
Estimated Value: $15.00
Sponsored by: squatch5000
Sponsor rating: 100/100
Giveaway Status:
Winner Selected

05/24/2016

squatch5000 has received up to 279 karma for delivering the prize!
These were the winner's odds
Yet more giveaways for you (new and somewhat related)
---
All Comments (2)
squatch5000 - 04/11/2016 7:31 a.m. (direct link)

@lapanui This is a stock photo that is very close to the critters I have. I'll unbox them and update the photo so you can see the exact plush animals.

Lapanui - 04/09/2016 11:25 a.m. (direct link)

They look so cute!