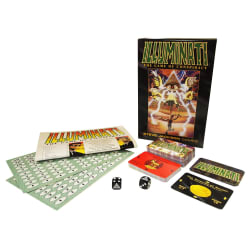 Giveaway: Play the Illuminati (Don't be Played by them)
(Delivered)
I'm running this giveaway as a special thank you to the Alternative News Digest channel's Youtube subscribers. Alternative News Digest has reached the big two-double-oh subscribers now. Thank you, all!
I've selected this because some say this game includes hits about the NWO agenda. I figured our viewers would appreciate that. Take a look here: PAID FOR BY THE CIA AND THE ROTHSCHILD ILLUMINATI
-- More About this game --
Even though the Illuminati like to play the masses like pawns on a chessboard, you're not a pawn. So why don't you play Illuminati instead?
This classic by Steve Jackson games first came out in 1982 (that's just two years before 1984).
And could it be an accident that 1+9 = 10 and 8+2 = 10 which gives us a result of 10,10, or 1010, which is a symmetrical binary number with a decimal value of 10. 1010b + 10d = 30d. Illuminati made the Gregorian month as 30 days in 1582? I think not. This has Illuminati written all over it.
It's not a laughing matter. Good luck!
Prize: Illuminati the Game of Conspiracy [File Under: Board Games]
Available on amazon.com
Estimated Value: $26.00
This is Steve Jackson's hit game "Illuminati"
The telephone company is controlled by creatures from outer space. The Congressional Wives have taken over the Pentagon. Evil geniuses are building Orbital Mind Control Lasers . . . aimed at YOU! This is a tense but tongue-in-cheek game about taking over the world, not by guns and missiles, but by stealth and guile. Each player becomes one of the Illuminati, the "secret masters" who are behind everything! Build your power and wealth, taking control of groups like the FBI, the Federal Reserve, the Nuclear Power Companies, the Orbital Mind Control Lasers, the Semiconscious Liberation Army, the Post Office . . . yes, even the Post Office is part of the Conspiracy .
Facts:
2 to 6 players
1-3 hours
Ages 12+
Giveaway Status:
Winner Selected

11/04/2016

Only Ambiance Youtube has received up to 2429 karma for delivering the prize!
These were the winner's odds
Yet more giveaways for you (new and somewhat related)
---
All Comments (1)
Wow, up to 16 Karma for passing. A very appropriate giveaway for election season!