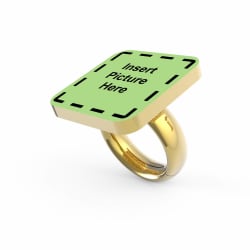 More details:
Giveaway: Pictures are forever
(Claimed)
For our store launch, we want to give away a personalized golden alloy ring with the picture that you decide on it.
Our alloy is copper based and 100% nickel free, therefore no allergies whatsoever. It's made to mimic the brilliance, strength, and color of yellow gold.
Our products are handmade to order by professional and World Class Italian Jewelers so you get the best ring possible.
Prize: Create your Own SACRED ORI Ring (Golden Alloy)
Estimated Value: $95.00
Imagine taking your favorite picture or piece of art everywhere you go... Art is not just a pretty drawing; it is a reflection of who we are. Our preferences, beliefs and individualistic style are what makes us stand out from everyone. With Sacred Ori, you can do just that, create your own timeless jewelry to suit your style and personality. What's more, you can turn your family portrait into an unforgettable ring. Our rings are made of copper-based alloy, 100% nickel free to ensure they don't produce any allergies whatsoever. You can choose between the Silver alloy, which is created to mimic the brilliance, resistance, and strength of real silver and real white gold. Or you can choose our Golden alloy, which mimics real yellow gold. Finally, we offer you our 925.00 pure silver ring, the purest in the market. We stand by our metals and we are completely sure that you will love what we have to offer you. Our rings are completely handmade by famous Italian jewelers, so any small imperfection you find on your item is an imperfection that makes it unique. We test all our products under water for 48 hours amongst many other special techniques that prevent any damage caused by rust, heat, water and even scratches. You can upload any image you want; if it's a family portrait, an image of a loved one or even your own artistic illustration that you created, and thanks to our talented designer and our amazing craftsmen, you can be sure to receive the best-printed quality jewelry that you can find. The process is simple:
Choose your desired precious metal Upload a picture And... let us do the magic
Since perfection is what we strive for, it is important to note that the process may take up to 5 days. We want to ensure the best quality guaranteed and for your ring to look exceptional. Our graphic designer will optimize and enhance your image so that it is clear and concise and we also leave room to any discrepancies; should you picture be blurry or too small.
Consolation Prize: 50% off everything
Anyone who enters but doesn't win the Create your Own SACRED ORI Ring (Golden Alloy) will receive a code to unlock the discount.
Giveaway Status:
Winner Selected

01/01/2019

Sacred Ori will receive up to 169 karma for delivering the prize!
These were the winner's odds
Yet more giveaways for you (new and somewhat related)