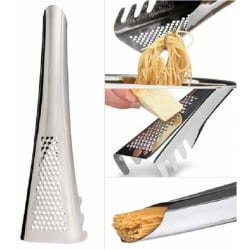 Giveaway: Pasta La Vista!
(Delivered)
This stainless steel, multipurpose pasta tool is a measure, server, and Parmesan grater that will take you from prep, to cook, to table, while minimizing clean up! After all, the worst thing about cooking is washing the dishes after. Now there's two less utensils in your sink!
Prize: Pasta La Vista! prize
Available on amazon.com
Estimated Value: $16.00
Giveaway Status:
Winner Selected

06/02/2016

Wanderlink has received up to 457 karma for delivering the prize!
These were the winner's odds
Yet more giveaways for you (new and somewhat related)
---
All Comments (2)
Ooh up to 3 karma demand! Someone must be planning a pasta party.

greychild - 02/21/2015 4:36 p.m. (direct link)

I could see myself using this. :)