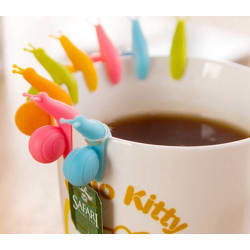 Giveaway: Noveltea Snail
(Delivered)
Wrapping your tea bag's paper around the handle of your cup, but it's still falling into the water? Don't hurt your fingers on that hot tea anymore. Let these adorable little snail friends help you out. These little guys perch themselves right on the edge of your mug (or glass) and let you wrap the end of your tea bag around them, to give you an easy, no muss way to get that bag out. OR you can just let them sit there and keep you company while you drink anything else. Because who likes to drink alone?
Prize: Noveltea Snail prize
Available on amazon.com
Estimated Value: $1.65
Giveaway Status:
Winner Selected

05/20/2016

Only Ambiance Youtube has received up to 203 karma for delivering the prize!
These were the winner's odds
Yet more giveaways for you (new and somewhat related)