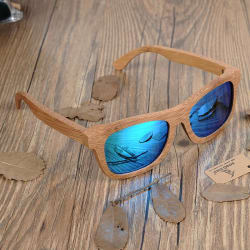 Giveaway: Nothing shady about these shades!
(Delivered)
Bazaar 68 is a new online marketplace based out of Long Beach, CA offering men's accessories at affordable prices. Currently we offer sunglasses, watches, bow ties and pocket squares. We have plans to expand into socks and slim wallets as well.
But first, we need some fans! If you like what you see in this giveaway, please check us out... On Facebook @ https://www.facebook.com/Bazaar68/ On Instagram @Bazaar68<br /> On Twitter @Bazaar68 At the store itself http://www.bazaar68.com
Thanks, and good luck!
Prize: Bamboo Sunglasses (Blue Lens)
Estimated Value: $25.00
Handcrafted bamboo-framed sunglasses are trending this season. Something new and different for your summer collection! 
Lens Info: Mirror, UV400 Lens Height: 4.5cm Lens Width: 5.0cm Lens Material: Plastic Lens Style: Rectangular Frame Material: Bamboo
Consolation Prize: 40% off any sunglasses on the site! Valid through end of May 2018, one use per customer.
Anyone who enters but doesn't win the Bamboo Sunglasses (Blue Lens) will receive a code to unlock the discount.
These were the winner's odds
Yet more giveaways for you (new and somewhat related)
---
All Comments (2)
I think I hit "add comment" before finishing.... it anyway, I've had several people ask about the glasses and where to purchase some! I'm going to use them in some of my upcoming photo shoots too and of course, I'll add product info on them!

My apologies on the delayed reply.....I've been in the hospital the past few days so I haven't gotten around to writing a review, but I have to say, these are AWESOME!! They're great quality all around and definitely do the job with the sun! I've had a few people ask about them alr