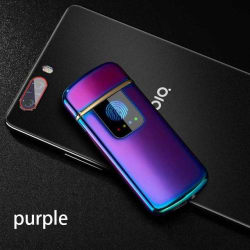 More details:
Winner did not receive prize
Giveaway: No More Lighter Fluid! Charge Your Lighter Forever!
(Delivered)
iSmellDeals has all the cool things you haven't stumbled upon. We are trying to expand our reach by giving away FREE products from our website. This giveaway is for our Touch Sensitive Lighter. Never Run Out Of Lighter Fluid Again!

Prize: Touch-Sensitive USB Switch Lighter (Purple)
Estimated Value: $32.99
USB Charge -Rechargeable  -Windproof  -Flame-less  -Electric Lighter -Metal Cigar Cigarette Lighter -15 Colors To Choose From -No Flame -No Lighter Fluid -2 Sided Lit
Consolation Prize: 20% OFF Your Next Order!
Anyone who enters but doesn't win the Touch-Sensitive USB Switch Lighter (Purple) will receive a code to unlock the discount.
Giveaway Status:
Winner Selected

01/22/2019

i Smell Deals has received up to 2997 karma for delivering the prize!
These were the winner's odds
Yet more giveaways for you (new and somewhat related)