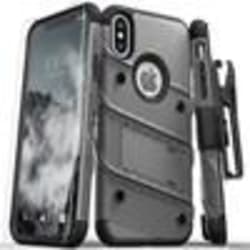 More details:
Winner did not receive prize
Giveaway: New Customer Drive
(Delivered)
Protective, attractive, and exclusive. The perfect 3 words to describe the Zizo [Bolt Series]. When it comes to finding a reliable iPhone Xs Max case, the Zizo Bolt Cover is definitely your first choice. This product features a dual-layer case that is engineered to disperse impact force when dropped. A soft [Shock Absorbing] Xs Max Polyurethane with an [Impact Resistant] Polycarbonate Shell is the secret behind Zizo Bolt Cover's protection. This bundle also includes a heavy duty 360 degree rotatable holster belt clip and a built-in kickstand to provide additional versatility and functionality using your device. Aesthetically crafted with 10 color variations to choose from to convey the perfect platform to express your style. The Zizo [Bolt Series] meets 12 ft. Military Grade 810.1-G Certification. We know how important your phone's protection is to you, so we also included a Zizo [Lightning Shield] iPhone Xs Max Full Glue Glass Screen Protector FREE with every purchase. This case is compatible with the iPhone Xs Max. Our goal is simple: to provide the best value in products available. Zizo is a second-generation family company based out of Southern California. We're a New school company with Old school traditions. Become a part of the ZizoFamily today! PATENT NO: D795,239. The Winner OF this giveaway will receive a Zizo Bolt Case in Color and Model of their Choice.
Prize: ZIZO BOLT SERIES CASE W/ KICKSTAND, HOLSTER, TEMPERED GLASS SCREEN PROTECTOR,
Estimated Value: $39.99
High-strength, metal hook included for ultimate security. This highly durable kickstand allows for hands-free viewing at various angles. Heavy-duty, yet lightweight case prevails through bumps, drops and shocks. Its slick exterior design allows for easy access to your device. Inside cover made from thermoplastic polyurethane to absorb shock and prevent damage to the device. Cover created with multiple layers for ultimate protection. Holster included features a rubber textured, swivel clip for maximum durability and comfortable wearing. The Bolt Cover, is truly attractive, protective, sleek, and most of all EXCLUSIVE! Protect your phone with style through this sleek case. The screws act as shock absorbing stoppers to keep your phone safe and secure. The rubber texture keeps the phone case from sliding everywhere when set down on flat surfaces! Adds to the unique design as well! The interior is a Thermoplastic polyurethane material that snuggly hugs the phone, while a multiple-layered rubberized coated hard-shell tightly snaps and protects the phone itself! All buttons are strict clear-cuts in the TPU to make it easy to press! All openings are precise in the cover to make it just, exact! Enhanced to make the most user friendly experience! Lean, lightweight, accurate, and ultimately(more...)
Consolation Prize: 5% Discount on your next order
Anyone who enters but doesn't win the ZIZO BOLT SERIES CASE W/ KICKSTAND, HOLSTER, TEMPERED GLASS SCREEN PROTECTOR, will receive a code to unlock the discount.
Giveaway Status:
Winner Selected

12/28/2018

Phone Case Supply Center has received up to 37 karma for delivering the prize!
These were the winner's odds
Yet more giveaways for you (new and somewhat related)