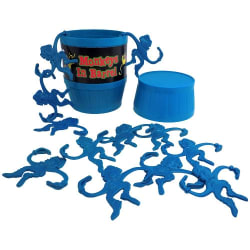 Giveaway: Monkeys In Barrel
(Delivered)
The Monkeys in Barrel is yet Another giveaway in our classic plastic toy surplus lineup. You probably know the rules to this simple game. You dump the monkeys out then try to make a chain of monkeys, picking all of them up without dropping any.

Prize: Monkeys In Barrel prize
Available on amazon.com
Estimated Value: $4.00
Giveaway Status:
Winner Selected

08/11/2016

Only Ambiance Youtube has received up to 219 karma for delivering the prize!
These were the winner's odds
Yet more giveaways for you (new and somewhat related)
---
All Comments (1)
These look like so much fun but I can't think of what to compare it to.