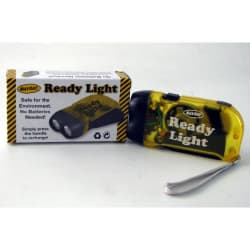 Giveaway: Mayday Ready Light
(Delivered)
When the next CME, EMP, or regular old power outage strikes you won't be left in the dark if you win this giveaway. The Ready Light is a simple dynamo flashlight that can be charged up with a few quick squeezes. It's not the brightest light I've ever seen, but it sure is nice to have in an emergency.

Prize: Mayday Ready Light prize
Available on amazon.com
Estimated Value: $5.00
Giveaway Status:
Winner Selected

08/18/2016

Only Ambiance Youtube has received up to 324 karma for delivering the prize!
These were the winner's odds
Yet more giveaways for you (new and somewhat related)