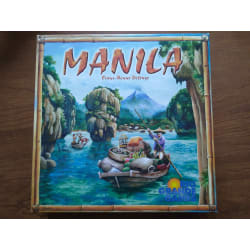 Giveaway: Manila: The original board game
(Delivered)
We first acquired this (used) copy of Manila, a classic river boat transportation board game, from a small town thrift store. After deciding to offer it as a giveaway on Prizemojo we discovered that it is actually a rare copy that is no longer in production! Specifically...
The boats are real wood!
That's right, after Rio Grande Games sold the rights to Zoch Verlag, the board game was manufactured with lower quality components, most notably the boats in the version manufactured today are cardboard. We are giving away the original, higher quality, Rio Grande Games version here. Valued between 2-6 times the current manufactured version, depending on where you look.
All that said, it's used, and a fun board game, so you should play it! Best of luck on this giveaway and may your future jade, ginseng, silk and nutmeg shipments find Manila safely.
Prize: Rio Grande Games Manila
Available on amazon.com
Estimated Value: $169.99
In a distant land, many years ago there rose a great and wealthy city. Its name, now forgotten by most, was Hermagor. Commerce was the source of its richness, because from all its territory men, artisans, and adventurers brought to the city all kinds of merchandise to sell there: weapons, ancient books, precious relics, and the rare dragon eggs. In this city, one can buy and exchange almost everything. This made Hermagor famous and merchants can from far and wide to buy and sell all kinds of goods at the market, some even undertook perilous adventures to acquire especially rare items. They criss-crossed this wealthy region, creating new paths and roads, adding markets to towns, but always with the aim to become wealthy.
3 to 5 player game
60 minuts to play
Pre-historic tribal hunters
Strategy game
Economic challenge
Giveaway Status:
Winner Selected

04/09/2018

Wanderlink has received up to 6095 karma for delivering the prize!
These were the winner's odds
Yet more giveaways for you (new and somewhat related)
---
All Comments (7)
lilrebbitzen - 04/09/2018 6:49 p.m. (direct link)

Aw man. Game group would have loved this. There goes 216 karma.

There there @Nemz and the 1.2k spender. At least you can say no actual money was lost and you get an interesting story. Still wish I had a consolation prize for you both.

For the record, 10%=600ish karma. So someone dropped 1.2k on this.

Popular giveaway even Justin with 66 chances had a 2% chance. @Nemz just curious were you the one with 20% odds?

Holy crap valued at 102 right now. People must really love wooden boat pieces.

I need all the karma between now and this giveaway. Cause I'm dumping all of it on this.