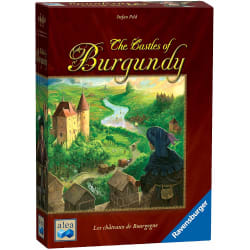 Giveaway: Make estates not war in The Castles of Burgundy
(Delivered)
Some of you strategy board game fans may have grown tired of neighbors trampling your carefully built city or perhaps a robber blocking your meticulously placed resource pools. Well Castles of Burgundy is something different. Work your own board (your estate) through trading, livestock farming, city building, wine drinking or scientific research. It's competitive and quite strategic but much less brutish. Take a moment to enjoy a finer game in life after winning, or buying, a copy of The Castles of Burgundy!
Prize: The Castles of Burgundy
Available on amazon.com
Estimated Value: $30.41
15th century princes from the Loire Valley devote their efforts to strategic trading and building in order to bring their estates prosperity and prominence throughout Burgundy. Two dice set the action options, but the players always make the final choices. Trading, livestock farming, city building or scientific research - many different paths lead to the prosperity and prominence of the players. The many ways to gain victory points in this building game require careful thought and extensive planning ahead. The different estates ensure that no two games are alike and that the game remains challenging for a long time.
Giveaway Status:
Winner Selected

02/28/2020

Wanderlink has received up to 14709 karma for delivering the prize!
These were the winner's odds
Yet more giveaways for you (new and somewhat related)
---
All Comments (1)
Gopherfan - 01/29/2020 8:02 a.m. (direct link)

This is a great game. Great giveaway