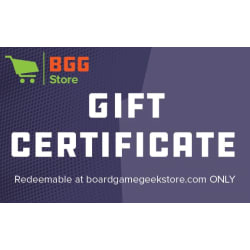 Giveaway: Last round for your board game karma!
(Delivered)
Here we are, the last round of the last giveaway game. So if you are looking for that final fix chance to win a board game, this is it, this is your time. The only thing that's for certain is that the karma spend will be immense, so hold on to your butts (but not your karma), because this will be a fun one.
WARNING WARNING!!! This is the very last giveaway, EVER!!1! SPEND YOUR KARMA NOW!!!
P.S. Paul and Ivan here, the masterminds villains totally normal people behind coppergoose.com and prizemojo.com. Try as we might, we have not found a way to make Prizemojo sustainable. So our beloved giveaway game, and it's parent company Wimpy Analytics LLC will be shutting down soon. That said, when, if, we decide to start something new we would love if you joined us. So, if you are interested in knowing what that next thing will be, put your email in this form. Regardless, we have greatly appreciated all of your support over the years and, as always, best of luck!

Prize: Board Game Geek Gift Card
Available on boardgamegeekstore.com
Estimated Value: $50.00
Prize is digital
Gift cards are delivered by email and contain instructions to redeem them at checkout. Board Game Geek gift cards have no additional processing fees.
These were the winner's odds
Yet more giveaways for you (new and somewhat related)