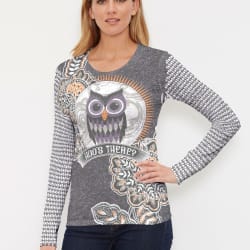 Giveaway: Knock Knock.. Hoo's There?
(Delivered)
Win a FREE "Hoo's There" Designer Owl shirt from Pike Creek Boutique!
Prize: Hoo's There (13337) ~ Thermal Long Sleeve Crew Shirt (XS)
Estimated Value: $74.99
This tee, made out of our Baby Waffle burnout thermal blend, is a popular find for when there's a chill in the air. A cozy fit, long sleeves, and a crew neck are accented by 3" rib cuffs. -- Your one-of-a-kind garment is created using all-over soft garment sublimation printing. Selected designs are individually printed into your garment. Cotton/Polyester blend.
<h2>Looking forward to giving a fashion feel to their Halloween Spirit? A limited edition Hooting Owl statement tee with contrasting back design in black, grey, purple and orange by Diane Kappa.</h2>
Sizes XS-2XL Cotton/Polyester burnout blend Care: Wash inside out, cold water. Tumble dry low Free shipping in the USA Made to order (Ships within 5 business days) American Made Your garment is produced individually using our all-over premium dye-sublimation process. Small white creases along the seam lines – sublimation smiles – are part of the process and no two pieces are exactly alike.
Consolation Prize: 20% Off all items in Apparel, Made to Order Dresses and Blouses, and Accessories Collections!
Anyone who enters but doesn't win the Hoo's There (13337) ~ Thermal Long Sleeve Crew Shirt (XS) will receive a code to unlock the discount.
Giveaway Status:
Winner Selected

10/05/2018

Pike Creek Boutique has received up to 2349 karma for delivering the prize!
These were the winner's odds
Yet more giveaways for you (new and somewhat related)