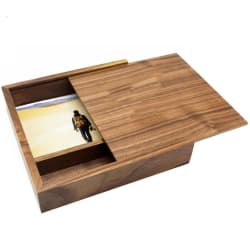 More details:
Giveaway: Keepsake Boxes are For Keeps
(Delivered)
Keepsake storage is all about finding an object that is aesthetically beautiful in its own right-not just a means to the end of storing your keepsake items. If the actual storage of keepsakes was all that mattered, then most of us would be fine with just tossing them in a cardboard box, but we generally look for better solutions, if for no other reason than to honor those cherished keepsakes and the memories they represent. This sliding lid box is more than large enough to store a few of your small keepsakes and memory items. Use it on the go, or keep it in a special location within your home. Either way, rest assured that your cherished heirlooms will be given pride of place.
Prize: Sliding Lid Keepsake Storage Box-180*180*50 mm (Walnut)
Estimated Value: $24.99
Sliding lid keepsake boxes are great for their simplicity and utility. After all, what could be more simple than easily sliding the lid on or off? And this simplicity enhances the elegance of not having any box hardware-hinges, clasps-to deal with or possibly detract from the overall wood aesthetic. This particular box comes in two wood varieties: walnut, and maple. The walnut finish is of course better for those who prefer a darker finish, whereas the maple should satisfy the needs of those searching for a lighter finish. Use this box to store precious photographs, pens, jewelry, or other keepsakes or memory items. 
Product Attributes
The dimensions are 180x180x50 mm, or approximately 7.09x7.09x1.97 inches
Available in walnut and maple color variations
The smaller left hand internal compartment is about 35 mm, or 1.38 inches
The larger right hand internal compartment is about 110 mm, or 4.33 inches
The box front features a finger groove to make removing and replacing the sliding lid easier and more convenient
The items shown in the photos (sample picture, pen, etc.) are not included and are for display purposes only
Consolation Prize: 20% Off-Your entire order
Anyone who enters but doesn't win the Sliding Lid Keepsake Storage Box-180*180*50 mm (Walnut) will receive a code to unlock the discount.
These were the winner's odds
Yet more giveaways for you (new and somewhat related)