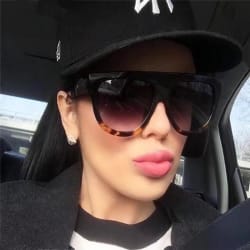 More details:
Winner did not receive prize
Giveaway: Kazzi Boutique's Back to School Giveaway
(Delivered)
What better way to celebrate "Back to School" by gifting one lucky person with one of Kazzi's Picks premium sunglasses.
Prize: Retro-Boomin Shade (Stallion)
Available on kazziboutique.com
Estimated Value: $25.00
Exclusive. Luxurious. Glamorous. Sophisticated. These Retro-Boomin Shade sunglasses is polished to perfection. These statement sunglasses are sure to serve looks to remember. Made with only premium materials and UV400 protection for the best eye experience.
Consolation Prize: 15% off sunglasses
Anyone who enters but doesn't win the Retro-Boomin Shade (Stallion) will receive a code to unlock the discount.
Giveaway Status:
Winner Selected

08/22/2019

Kazzi Boutique has received up to 395 karma for delivering the prize!
These were the winner's odds
Yet more giveaways for you (new and somewhat related)