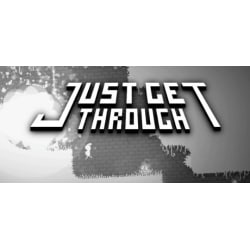 Giveaway: Just Get Through Steam Giveaway
(Delivered)
The procedurally generated platformer Just Get Through, a game by the german, one-man game studio Retrific, features various gamemodes, daily runs, steam leaderboards and trading cards, a sandbox, user-generated levels, explosions, traps, precise walljumping and more. Together with roguelike elements like permadeath, procedural generation, an endless amount of challenging levels and more this underrated game forms your next platformer challenge. You play as a dude trapped somewhere in a jungle-like environment. You try to escape but there is no exit - only those portals. And everytime you jump through one of them, you just land in another dungeon with even more traps.
The winner will get an email from Steam that will unlock the game.
Giveaway Status:
Winner Selected

06/07/2016

Colonel Sanders has received up to 164 karma for delivering the prize!
These were the winner's odds
Yet more giveaways for you (new and somewhat related)
---
All Comments (2)
Wow I never knew one of the 11 secret herbs and spices was a Scrub spread.

I forgot to put the word "gift" in the title like I did with the LiEat one. I am the worst human to ever exist.