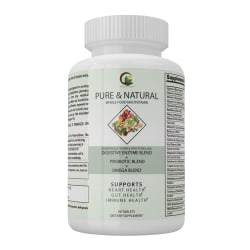 Giveaway: Just for the Health of it
(Delivered)
Purely Natural Nutrition believes everyone should have access to High-Quality all-natural nutritional supplements for their diets because getting fresh fruits and vegetables is simply not an option for a lot of society due to the cost, leaving those families eating corporate America's processed unhealthy food options because they are cheap. The US is one of the most unhealthy countries as a result. Purely Natural Nutrition ranks with the best as far as ingredients and manufacturing our supplements here in the US and are available at a fraction of the cost and we intend for the cost to get even better as we grow. If we have learned anything from this horrible pandemic it's that we need to get healthier as a nation. We can't do it all, but we can and will surely do our part. We are a New Company and we understand we have to build trust with you the consumers before we can grow enough to make much difference but until that time we Will do what we can. Please enter to win our prize and if you win and like our products just pass the word on to friends and family and become a part of our vision.

Prize: Pure & Natural whole food vitamins
Available on purelynaturalnutrition.shop
Estimated Value: $42.67
1 bottle of Pure & Natural whole food vitamins with probiotics, digestive enzymes, and omega blend for complete immune support. Formulated with all-natural, Non-Gmo, Gluten-free, and vegan-friendly ingredients
Consolation Prize: 20% off Pure & natural whole food vitamins
Anyone who enters but doesn't win the Pure & Natural whole food vitamins will receive a code to unlock the discount.
Giveaway Status:
Winner Selected

01/12/2021

Purely Natural Nutrition has received up to 1128 karma for delivering the prize!
These were the winner's odds
Yet more giveaways for you (new and somewhat related)