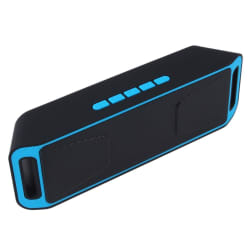 Giveaway: Jungle Sale
(Delivered)
Special Feature: Mini,Wireless Speaker Type: Portable Model Number: Speaker Brand Name: OXA Support Apt-x: No Wireless Type: None,Bluetooth Cabinet Material: Plastic Speaker Structure: Sealed Playback Function: MP3 Support Memory Card: Yes Interface Type: USB Feature: None Communication: Wireless+Wired Battery: No Radio: Yes Use: Portable Audio Player, Mobile Phone

Prize: Portable Wireless Bluetooth Speaker Hand-free Heavy Bass FM Radio For Smart Phone Tablets Built in
Estimated Value: $40.00
Special Feature: Mini,WirelessSpeaker Type: PortableModel Number: SpeakerBrand Name: OXASupport Apt-x: NoWireless Type: None,BluetoothCabinet Material: PlasticSpeaker Structure: SealedPlayback Function: MP3Support Memory Card: YesInterface Type: USBFeature: NoneCommunication: Wireless+WiredBattery: NoRadio: YesUse: Portable Audio Player, Mobile Phone
Giveaway Status:
Winner Selected

12/13/2017

Electronic Jungle has received up to 1552 karma for delivering the prize!
These were the winner's odds
Yet more giveaways for you (new and somewhat related)
---
All Comments (3)
@Moondazzlecases.com Makes sense, makes sense. I see what you mean :)

Moondazzlecases.com - 12/10/2017 12:56 p.m. (direct link)

Very cool too have one in every room. Bathrooms especially, no offense. LOL

It's a cool looking speaker. Looks like it's from Tron.