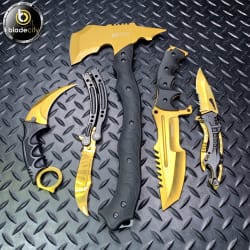 More details:
Winner did not receive prize
4 Comments
Giveaway: Jim's Giveaway
(Delivered)
Jims giveaway to say thank you for all those who came and support Stoned Jim's new store.

Prize: *FLASH SALE* GOLD 5-PIECE KNIFE SET
Estimated Value: $64.95
5 Piece Gold Knife SetAll 5 piece sets will include the following:
Gold Tactical Axe w/ sheath Huntsman w/ sheath Tigertooth raptor claw karambit w/ sheath Gold shark blade Gold key multi knife
Consolation Prize: 10% off Eligible Products
Anyone who enters but doesn't win the *FLASH SALE* GOLD 5-PIECE KNIFE SET will receive a code to unlock the discount.
Giveaway Status:
Winner Selected

03/20/2019

Stoned Jim's has received up to 8421 karma for delivering the prize!
These were the winner's odds
Yet more giveaways for you (new and somewhat related)
---
All Comments (4)
Softmoron - 03/20/2019 9:17 p.m. (direct link)

I AM SO SAD though

Forreal,I've been saving up for this one though