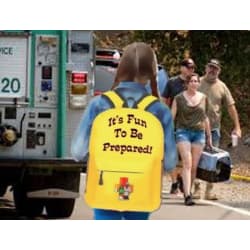 Giveaway: It's Fun to be Prepared! of the Month Club
(Delivered)
Win this great gift for any child. A backpack with our book, It's Fun to be Prepared! to help kick-start your home plan. Give this unique concept to help your family, friend or relative be prepared for an emergency. Not only will the child be prepared but it will certainly help the rest of the family start a family plan. Who will you give this to?
We will contact the winner to arrange the shipment of monthly supplies starting in May.
Prize: "It's Fun to be Prepared!" Of The Month Club (12 months)
Estimated Value: $185.00
Have the kids do it, the family will follow. Working in Emergency Preparedness for many years, we asked groups of adults, "How many of you are prepared at home to sustain you and your family for 3 days in the event that something bad happens?" The answer was, about 1 out of 15 people, which gave me pause.
I thought back to when I was a child. When my neighborhood friends and I wanted to do something that was helpful, like raise money for charity. I remember that our parents were very supportive and often joined in. With those fond memories, I came up with an idea for a emergency preparedness book that would instruct children on how to get their family prepared for an emergency or disaster. This would not be your normal children's book with games, puzzles and coloring pages about emergencies. I wanted the children to be immersed in the involvement of creating their families emergency plan. I wrote it so not frighten them but make it fun with useful projects that would allow them to understand what they were accomplishing and why it was important. As I began writing it, I realized that Mom and Dad's involvement would be very important so I made sure that they were included. I wrote a Parent's section at the beginning of every chapter, guiding them through the assignments that the kids were about to do and how to assist them. The book is entitled, "It's Fun to be Prepared!"   I needed the kids and parents to take the first step in being prepared at home. I now created the It's Fun to be Prepared! of the month club. 
The subscription's first month consists of a copy of our book, "It's Fun to be Prepared!" and a Child Size "It's Fun to be Prepared!" Backpack so they can start their own Go-Kit.  Each month recipient will receive special emergency supplies to fill the backpack.
Consolation Prize: 10% off of any month subscription to get your family preparedness ready!
Anyone who enters but doesn't win the "It's Fun to be Prepared!" Of The Month Club (12 months) will receive a code to unlock the discount.
Giveaway Status:
Winner Selected

05/05/2018

My Magical Book Store has received up to 331 karma for delivering the prize!
These were the winner's odds
Yet more giveaways for you (new and somewhat related)
---
All Comments (1)
I think this is the first time we have had a giveaway with a prize spanning many months after the giveaway. What an interesting idea.