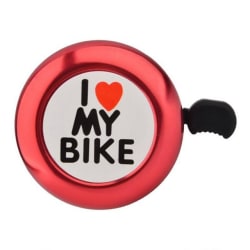 More details:
Winner did not receive prize
1 Comment
Giveaway: If you love your bike... Let us ring your bell!
(Delivered)
We want all you urban cyclists to stay safe on the roads. That's why we're giving away one of our 'I Love My Bike' bells.
Don't worry if you don't win though, all entrants will be rewarded with 10% off their entire order on urbanbikeparts.com and get FREE SHIPPING!
Best of luck and keep cycling!
Prize: I Love My Bike Bell (Red)
Estimated Value: $5.99
This bike bell produces the classic "dinggg-dinggg" tone when the side lever is pulled. Hassle-free mounting on most hand bars. It won't take up too much space, leaving plenty of room for brakes, gears, and other accessories! This bicycle bell can be heard from far away even over traffic noises, giving a good amount of warning to pedestrians and other cyclists. A highly recommended safety item for any bicycle. Bike Bell Features
Ringer style bell with a classic sound
Adjustable handlebar mount
Plastic and Aluminium Alloy material
Size: 5.4 cm / 2.1 inches across
Sturdy and very easy to install
Check out our other products on Urban Bike Parts.
Consolation Prize: 10% off your entire order and FREE SHIPPING!
Anyone who enters but doesn't win the I Love My Bike Bell (Red) will receive a code to unlock the discount.
Giveaway Status:
Winner Selected

02/13/2018

Urban Bike Parts has received up to 159 karma for delivering the prize!
These were the winner's odds
Yet more giveaways for you (new and somewhat related)
---
All Comments (1)
So many ways to trick out a bike!