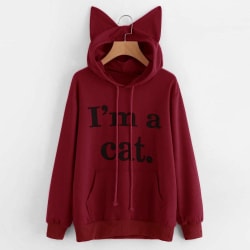 Giveaway: Identifying and embracing a cat-atosis diagnosis
(Delivered)
As an "awwcute" illness, many often worry or hope that they have developed a case of cat-atosis but have no clear way of knowing. We hope that this giveaway will help answer any questions and also provide support by way of a cat hoodie sold by past sponsor Pawtastic Treats & Goodies.
Common warning signs of cat-atosis include
Increased urge for scalp, chin or back massage
Seeking warmth, regardless of season
Long bouts of extreme relaxation
Short bouts of extreme anxiety
Others appearing to talk gibberish at you
Chasing objects that cannot be obtained
Frequent grooming
Unusual fears such as cucumbers, water or own reflection
If you have experienced three or more of these symptoms you should immediately enter to win or purchase this cat hooded sweatshirt, seek a warm and comfortable place and sleep for the next 12 to 16 hours.
Prize: Cat Hooded Sweatshirt
Estimated Value: $22.99
Casual cotton pullover hoodie
"I'm A Cat"
Perfect for this winter season
Snuggle up with your furry feline in this warm sweatshirt
These were the winner's odds
Yet more giveaways for you (new and somewhat related)
---
All Comments (4)
@bhputnam Yes, any size that is available on the product details link.

bhputnam - 07/28/2018 1:07 p.m. (direct link)

Are you allowed to request it in any size?

earthdaisy - 07/27/2018 10:48 a.m. (direct link)

So excited for this giveaway!!!

mary011853 - 07/24/2018 8:29 a.m. (direct link)

love it