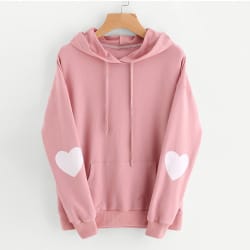 More details:
Winner did not receive prize
1 Comment
Giveaway: "I was born with my heart on my sleeve, a fire in my soul and a mouth I can't control"
(Delivered)
FREE ITEM GIVEAWAY!! Winner will be chosen at random. Prize is 100% free-all you have to do is enter and respond if chosen. GOOD LUCK!
Prize: Heart on my sleeve
Estimated Value: $25.00
Wear your heart on your sleeve with our best selling pullover! It is a gorgeous pink with white hearts.
Suggestion: Fits true to size  Hoodie pink polyester Hand wash; hang to dry
These were the winner's odds
Yet more giveaways for you (new and somewhat related)
---
All Comments (1)
Showpeopleloveandsha - 09/18/2018 3:21 p.m. (direct link)

Hope I win!