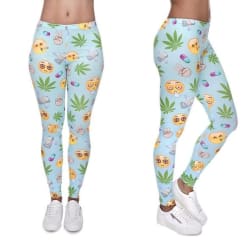 More details:
Winner did not receive prize
1 Comment
Giveaway: I Love Weed So Much I Wear It.
(Delivered)
Weed Leggings Sizes Run from S-L ,
perfect for relaxing and toking . consolation prize is a hefty discount

Prize: 420 Leggings
Estimated Value: $14.00
Weed Leggings.
Consolation Prize: 20 % off Order.
Anyone who enters but doesn't win the 420 Leggings will receive a code to unlock the discount.
Giveaway Status:
Winner Selected

11/23/2018

K and B Vape Co. has received up to 95 karma for delivering the prize!
These were the winner's odds
Yet more giveaways for you (new and somewhat related)
---
All Comments (1)
Greylin - 11/22/2018 12:16 p.m. (direct link)

Hard pass