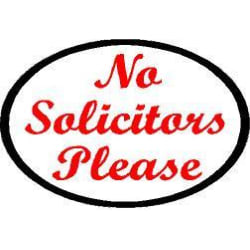 Giveaway: Help Keep Solicitors Away
(Shipped)
Industrial Grade Materials: Professional Grade Vinyl Graphics & heavy duty substrates made to withstand the harshest elements. Indoor or Outdoor Use: Made to last inside & outside. UV Coated for long life outside

Prize: No Solicitors Please Decal (3x4)
Estimated Value: $3.75
Post this decal on your property to help prevent unwanted solicitation.  
Product Details  All of our products are made in the U.S.A.   
Industrial Grade Materials: Professional grade vinyl graphics & heavy duty substrates made to withstand the harshest elements.
Indoor or Outdoor Use: Made to last inside & outside.
UV Coated for long life outside
Consolation Prize: Discount on our products
Anyone who enters but doesn't win the No Solicitors Please Decal (3x4) will receive a code to unlock the discount.
Giveaway Status:
Winner Selected

07/29/2017

Sala Graphics, Inc. will receive up to 121 karma for delivering the prize!
These were the winner's odds
Yet more giveaways for you (new and somewhat related)
---
All Comments (2)
Thank you. Now I know since you've reposted it.