Hear it LOUD & clear! TreeHuggerBoutique.com ROCKS! Get this freebie with FREE shipping (U.S. Only)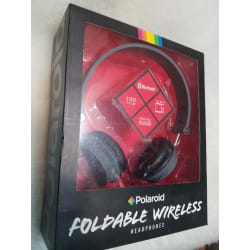 Giveaway: Hear it LOUD & clear! TreeHuggerBoutique.com ROCKS! Get this freebie with FREE shipping (U.S. Only)
(Delivered)
Winner will receive the following gift. Participants must be 18 years or older. Free shipping is included within the United States. Participants must have a valid U.S. mailing address. No purchase necessary.
Prize: Polaroid Foldable Wireless Bluetooth Headphones Headset, Gray/Blk
Estimated Value: $20.00
ORIGINAL RETAIL WAS $60. COMPARE PRICE TO $12.99 ON E-BAY!
CONDITION: Brand new, in package. TESTED. WORKS.
DESCRIPTION: Polaroid black/gray on ear headphones/earphones/headset with Bluetooth and foldable to make it less bulky in your bag. Great for travel or gift to someone that travels!
Features Free yourself to enjoy your music without the nuisance of wires with these Bluetooth headphones from Polaroid Includes: wireless headphones, USB charging cable, aux cable Can play up to 8 hours between charges; 300mAh battery recharges in about 2.5 hours Rotating adjustable ear cups High-definition sound Product information Product Dimensions 10 x 8 x 3 inches Item Weight 12.5 ounces Shipping Weight 12.5 ounces Department unisex-adult Manufacturer Polaroid
Check out full inventory w/freebies & special discounts at: treehuggerboutique.com
Consolation Prize: 10% off any item within electronics
Anyone who enters but doesn't win the Polaroid Foldable Wireless Bluetooth Headphones Headset, Gray/Blk will receive a code to unlock the discount.
Giveaway Status:
Winner Selected

03/03/2018

Tree Hugger Boutique has received up to 851 karma for delivering the prize!
These were the winner's odds
Yet more giveaways for you (new and somewhat related)
---
All Comments (2)