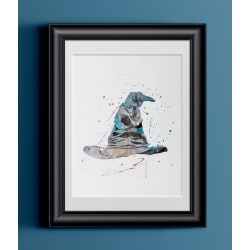 More details:
Giveaway: Harry Potter Sorting Hat Art Print
(Delivered)
Are you a Harry Potter fan, looking to fill an empty space on your wall? If so, this might be the giveaway for you! This beautiful Sorting Hat art print is printed on 110 lb cardstock, 8.5" x 11", and will look good in any room!
Prize: Watercolor Harry Potter | Sorting Hat Home Print | 8.5 x 11 | Wall Decor
Estimated Value: $15.99
Brand: Jonny & Britt Designs Details: This watercolor Harry Potter sorting hat home print is printed on 8.5 x 11 110 lb cardstock with high quality archival inks to insure this gorgeous print never fades Please note: This print is printed full page on 8.5x11 110lb cardstock, and is not designed to be trimmed down for an 8x10 frame, if you wish to frame it, you will need an actual 8.5x11 frame.
Giveaway Status:
Winner Selected

05/31/2017

Paper Coat Paper Co. has received up to 1257 karma for delivering the prize!
These were the winner's odds
Yet more giveaways for you (new and somewhat related)