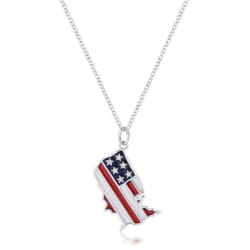 More details:
Winner did not receive prize
1 Comment
Giveaway: Happy Birthday USA!
(Delivered)
To celebrate the 242nd birthday of the USA we are giving away one Patriotic US map necklace!
Prize: .015 Ct Patriotic U.S. Map Necklace
Estimated Value: $22.50
This necklace shines with rhodium plating the same metal that gives white gold its glimmer. Red white and blue enamel change a pendant shaped like the United States into a flag and the stars are accented with cubic zirconia for a brilliant sparkling effect.Base Metal:Lead Free Alloy (brass)Style:ClassicMaterials:Cubic ZirconiaStone Cut:RoundCarat Weight:0.015 CtPlating Color:Rhodium
Consolation Prize: 20% off one jewelry order
Anyone who enters but doesn't win the .015 Ct Patriotic U.S. Map Necklace will receive a code to unlock the discount.
Giveaway Status:
Winner Selected

07/01/2018

Needlework Fool has received up to 87 karma for delivering the prize!
These were the winner's odds
Yet more giveaways for you (new and somewhat related)
---
All Comments (1)
The bow-tie version is pretty cool too. https://needleworkfool.com/collections/newest-products/products/025-ct-stars-and-stripes-bow-tie-necklace-with-cz