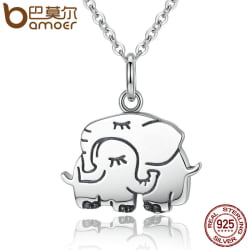 Giveaway: Grand Opening giveaway
(Delivered)
We giving one Lucky Shopper the Cute Elephant Hug Pendant Necklaces. This one of our best sellers here at Norbeck Company
Prize: BAMOER 100% 925 Sterling Silver Cute Elephant Hug Pendant Necklaces
Estimated Value: $16.99
Item Type: NecklacesFine or Fashion: FashionModel Number: SCN065Style: ClassicNecklace Type: Pendant NecklacesBrand Name: BamoerPendant Size: 18*20MMChain Type: Water-wave ChainGender: WomenShape\pattern: AnimalMetals Type: SilverMaterial: Cubic ZirconiaCondition: 100% Brand NewMaterial: 100% 925 Sterling SilverWarranty: 100% 925 Sterling Silver,If no,Full RefundOccasion: Anniversary, Engagement, Gift,Party,Wedding
Giveaway Status:
Winner Selected

07/01/2017

Norbeck Company has received up to 238 karma for delivering the prize!
These were the winner's odds
Yet more giveaways for you (new and somewhat related)
---
All Comments (1)
earthdaisy - 07/01/2017 8:47 p.m. (direct link)

This necklace is adorable! I checked out their website and they have a lot of neat stuff - I really like some of the pillows!