cowboyswifey is our lucky winner!!!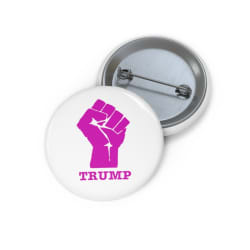 More details:
Giveaway: Grand opening
We just opened our store! Come get amazing anti-Trump merch and help contribute to great causes!
Prize: Fist TRUMP Pin Buttons (1")
Estimated Value: $5.85
Our metal pin buttons are lightweight, durable and have a strong safety pin for extra security. Whether you've got a fundraiser, a fun event or just want to add a unique accessory to your outfit, these metal pins are perfect. Pin a few on your leather jacket or your backpack for that extra cool touch. Grab yours today!.: 2 sizes.: Safety pin backing.: Made in USA
Giveaway Status:
Winner Selected

10/28/2019

Triumph Design will get up to 16 karma for delivering the prize!
These were the winner's odds
Not yet Available (Stay tuned)
Yet more giveaways for you (new and somewhat related)