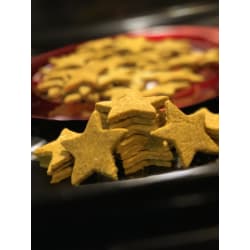 Giveaway: Gourmet Holiday Dog Biskies Box
(Shipped)
Christmas is over....But the gifts keep on coming!
We want to give you the perfect gift for your four-legged friend. If your anything like us, you have an incredible connection with your dog. You want to make sure they are eating foods that make them happy and healthy. That's why we started Pawtastic Treats, to give you peace of mind that the wonderful food as treats we make are wholesome, natural and chemical free.
Sharing is caring:
Share this giveaway with your pet loving friends.
Select one of the shareable social platforms below and like or follow our page: Facebook, Twitter, Pintrest, Tumblr, or Google +.
Best of luck! We hope your pet will be able to enjoy this amazing and delicious package.
Prize: Holiday Biskie Box
Available on pawtastictreats.com
Estimated Value: $18.00
Homemade Pawtastic Biskie Box
Show your pet that you care with this special gift.  Everything in this box is handmade including the box.  The perfect gift for your furry loved one.  
Included in the box:
Regular pack of gourmet biskies (Oat & Honey flavored)
Pack of homemade Sweet Potato & Herb Chips
Holiday Tree Biskie (Oat & Honey Biskie with Honey Glaze Icing) festive green tree with red ornaments and a yellow star on top. (Qty. 1)
Holiday Bone Biskie (Oat & Honey Biskie with Honey Glaze Icing) red and green striped bone in honor of the holiday season. (Qty: 1)
Handmade origami box in various holiday themed designs. 
Handmade Holiday Greeting Card from Pawtastic Treats Bakery to your family.
Consolation Prize: 25% Off Your Order
Anyone who enters but doesn't win the Holiday Biskie Box will receive a code to unlock the discount.
These were the winner's odds
Yet more giveaways for you (new and somewhat related)