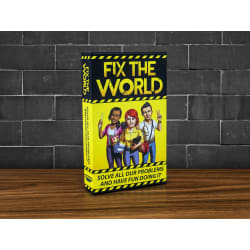 Giveaway: Got any better ideas?
(Delivered)
We increasingly live in a world of rigid extremes, political gridlock, stiff arming, and social echo chambers. So a board game that has everyone brainstorming and judging ideas on their own merits can be an escape that is both fun and challenging. Just don't think to hard about the satire, lest you ruin the fun!
Prize: Fix the World
Available on amazon.com
Estimated Value: $22.99
Fix the World is an easy-to-learn, quick, and hilarious little game that works perfectly as an ice-breaker at parties, something fun to do at family gatherings, or as a light filler game when you're tired of those heavy strategy games during your game nights.
Giveaway Status:
Winner Selected

06/30/2019

Wanderlink has received up to 3256 karma for delivering the prize!
These were the winner's odds
Yet more giveaways for you (new and somewhat related)
---
All Comments (2)
Huzzah! I can now try and fix the world!

Been saving up for this one.