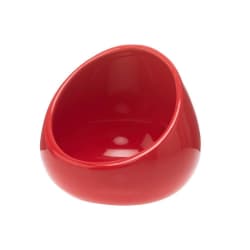 Giveaway: Giving Thanks for Your Business
(Delivered)
Today is Thanksgiving and ynotshop-online.com is very thankful for a successful business. We realize none of it would be possible without the consumer. For this, we want to show our gratefulness by giving away a prize to show our appreciation.
Prize: Boom Bowl (Cherry Red)
Estimated Value: $19.95
Can a sound amplifier combine performance and good looks? These can! The White, Chalkboard Black, Pink Rose, and Cherry Red Boom Bowl amplifies sound from your cell phone or MP3 player by more than 15 decibels and the quality is crystal clear sound due to its acoustic design and it's portable, so you can take it anywhere.  The Boom Bowl is made from acoustically designed ceramic and the hi-low circular design makes a great addition to any room and is compatible with most cell phones. You simply place your device inside the bowl and voila, the sound is amplified. You'll be amazed by the incredible difference it makes. Give it a listen and turn up the volume! Weight 1 pound. 5" x 5" x 4.5". Ceramic.
Consolation Prize: $25 off entire purchase, no minimum required.
Anyone who enters but doesn't win the Boom Bowl (Cherry Red) will receive a code to unlock the discount.
Giveaway Status:
Winner Selected

11/24/2017

ynotshop-online.com has received up to 426 karma for delivering the prize!
These were the winner's odds
Yet more giveaways for you (new and somewhat related)
---
All Comments (3)
tapindancer - 11/25/2017 12:07 p.m. (direct link)

Thanks so much!

I apologize for the inconvenience. The prize code is "GiveThanks2017" it expires on 11/27/17 at 11:59 pm. Thank you for entering. Happy Holidays!

tapindancer - 11/25/2017 2:41 a.m. (direct link)

I can't get the consolation prize code to work :(